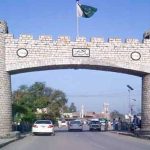 ISLAMABAD: Electioneering by political parties for general election, to be held tomorrow, concluded last night.
Political leaders and contesting candidates made last ditch efforts through public gatherings, corner meetings and rallies to garner maximum public support.
However, the candidates are allowed to do door-to-door campaigning today.
Over 12,570 candidates are in the run for National Assembly and four provincial assemblies.
According to the electoral rolls, 105.96 million voters are eligible to cast the vote.
In all, 85,307 polling stations have been set up across the country.
As many as 450,000 policemen and three hundred thousand army troops will be deployed on the polling day.
It will be public holiday tomorrow.
Meanwhile, caretaker Information Minister Syed Ali Zafar has urged the voters to come out of their abodes to cast their votes in favor of candidates of their choice, as the destiny and development of Pakistan lies in their hands.
The Minister said about 450,000 police and 370,000 military personnel have been deployed to provide utmost security to voters on the Election Day.
The Minister said installation of CCTV cameras on sensitive polling stations has also been completed. He said caretaker government has nothing to do with any political party and candidate. Its mandate and role is to ensure free, fair and transparent elections and it is sincerely working to achieve this goal.
Syed Ali Zafar said Election Reforms Bill 2017 was passed by previous parliament to make the election process transparent and there should no doubt in any mind about it. He said the Election Commission of Pakistan has set up a software for fast and error free processing of election results, from DROs to Election Commission within no time.
Replying to a question, the Minister said war against terrorism has been successfully fought to eradicate this menace from the country.
However, some desperate elements out of their frustration are trying to sabotage the elections and the democratic process in the country.