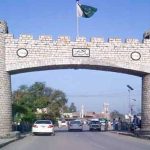 ISLAMABAD: Leader of Muttahida Qaumi Movement-Pakistan (MQM-P) Dr. Farooq Sattar has on Monday rejected the decision of Election Commission of Pakistan removing him as party convener.
Talking to media here in Islamabad, he said that the ECP's decision would be remembered as the black verdict adding that the commission gave an unjust and unfair decision.
He maintained the decision of the ECP is illegal and unconstitutional as the Commission holds no authority in intra-party conflicts.
Farooq Sattar added that the Commission's verdict is against the electoral laws and said that something about the decision smell fishy.
He also said that the ECP has no jurisdiction to interpret the constitution of any political party.
Sattar said that the electoral sign of kite was snatched from MQM and handed over to those belonging to Bahadurabad.
The MQM-P leader also said that a plan is being executed to eliminate MQM-P.
Earlier today, the Election Commission of Pakistan rejected objections of Dr. Farooq Sattar regarding its jurisdiction to hear intra-party conflicts and removed Sattar as MQM-P convener.