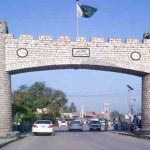 LAHORE: Pakistan Muslim League-Nawaz's (PML-N) leader and former federal minister for railways Khawaja Saad Rafique has requested Pakistan Tehreek-e-Insaf (PTI) Chairman Imran Khan to bar his workers from spreading chaos.
Addressing a press conference in Lahore on Saturday, he said that the politics of foul language would do no good to anyone adding all they wanted was peaceful elections.
Saad Rafique added that the nation was ready to cast vote on the basis of ideology adding that PML-N still enjoyed its vote bank in the country despite the conspiracies being hatched against them (PML-N).
He added that Lahore was the strong fortress of PML-N and the people of this city would decide on July 25 that they wanted to vote lion (electoral symbol of PML-N) only.
He also accused that the Election Commission of Pakistan (ECP) has turned its back on PTI adding that no one bothered to ask as to how much money the party was spending on its electioneering.