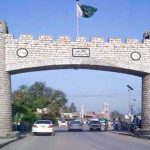 ISLAMABAD: All the educational institutions across the country would remain closed after June 1 due to the deadly coronavirus.
The decision was taken in a meeting chaired by Federal Minister for Education Shafqat Mahmood.
During the session, Khyber Pakhtunkhwa (KP) government supported to reopen the schools from June 1 whereas the representatives of Punjab and Balochistan administrations opposed the suggestion.
The provincial leaders participated in the meeting through video link.
Moreover, the participants have decided to put the matter in front of National Coordination Committee (NCC) meeting for further action.