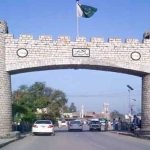 RAWALPINDI: Chief of Army Staff, General Qamar Javed Bajwa spent a day with troops deployed along Pak-Afghan border in Khyber Agency, Inter Services Public Relations said Monday.
According to the statement issued by DG ISPR, Major General Asif Ghafoor, the Army Chief was briefed about operational preparedness and improved border security measures including employment of newly raised FC KP Wings.
General Bajwa appreciated effective border security arrangements which have enhanced control on cross border terrorist movement. The army chief also hailed exceptionally high morale of the troops and their undaunted determination to eliminate terrorism.
Talking to soldiers, General Qamar Javed Bajwa said, "Our nation supports us due to our innumerable sacrifices we have made for defence and security of our motherland. Writ of the state has largely been restored and we are progressing towards enduring peace and stability."
Earlier, on arrival, the Army Chief was received by Commander Peshawar Corps Lieutenant General Nazir Ahmed Butt and IGFC KPK.