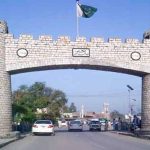 ISLAMABAD: Chairman PTI Imran Khan blamed federal government for not allowing him to dissolve the Khyber Pakhtunkhwa and Punjab assemblies.
Addressing to parliamentary party via video link from Zaman Park, former prime minister claimed that attempts are being made to oust him politically. He said that PTI is country biggest party and clean sweep all the by elections after ousting from the government.
He claimed that Hamza Shahbaz was installed as the chief minister of the province with support from the establishment and the Election Commission of Pakistan (ECP) even though his party had swept the by elections.
He said that the imported government had run away from the Islamabad by elections fearing that PTI would clean sweep the election.
The PTI chief blamed that Rs100 billion was offered to buy five lawmakers of the PTI ahead of trust vote in the Punjab Assembly.
Imran credited his party to convince public for showing up in the 65 marathon public gathering.
PTI Chairman said that PTI won the all bye-elections held in last year despite the fact that PTI had decided not to go back in the parliament.