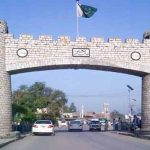 ISLAMABAD: The issue of Ehsanullah Ehsan, a former spokesperson of the Jamaat-ul-Ahrar (JuA) and Tehreek-i-Taliban Pakistan (TTP), once again echoed in the Senate when the interior ministry on Friday told the upper house of the parliament that the former terrorist leader would be tried in a military court.
State Minister on Interior Talal Chaudhry provided this information while responding to a question by Senator Farhatullah Babar on the detention and trial of Ehsan, and the nature of cases against him.
The state minister said that it had already been decided that Ehsan would not be pardoned. "Relevant institutions have decided not to pardon or release Ehsanullah Ehsan," he said, adding that the relevant agency doesn't want to hide Ehsan; instead, it wants him to face a legal course of action. "They would not have made his video public if they wanted to keep him out of sight."
"The relevant intelligence agency publicised his video so people could see his confessions; this shows that the agency wants action against Ehsan, which will be taken as per the law of the land," he added.
"Ehsan had surrendered to an intelligence agency; they can tell more about him. If the house desires, we can ask the relevant ministry to produce more details," he said, without naming the Defence Ministry.
Senator Tahir Mashadi, who was presiding over the session, directed Chaudhry to approach the ministry in this regard. "The people of Pakistan want to know about the beast," he said.
Earlier in the day, Interior Minister Ahsan Iqbal in his written reply to Babar's question had made it clear that civilian agencies were not looking into the matter. He added that Ehsan's case would be sent to a military court after approval by the relevant committee in this regard.
Ehsan was associated with the TTP and served the outlawed organisation as its spokesperson. In 2014, after a split in the TTP, Ehsan had become a spokesperson for JuA — what was then a newly formed splinter group of the TTP.
He had claimed responsibility for the [attack on the Army Public School] that took place in December, 2014. In April 2017, the Inter-Services Public Relations (ISPR) had announced that Ehsan surrendered to Pakistan's security agencies. Later, the army had released a video in which Ehsan claimed that terrorist organisations were being "used" by India and Afghanistan.
In December 2017, the Peshawar High Court had barred the government from releasing Ehsan. The decision was taken by a two-member bench of the court on a writ petition filed by Fazal Khan, father of a student killed in the December 16, 2014 Army Public School attack.
The petitioner believed that the government was planning to give clemency to the ex-militant, who is reportedly in the custody of security agencies.