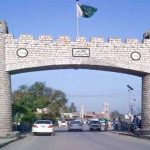 ISLAMABAD: The Foreign Office Spokesperson Nafees Zakariya has said that India was involved in terror activities in Pakistan and the confession of Kulbhushan Yadav and revelations of Ehsanullah Ehsan has exposed New Delhi before the entire world.
At the weekly news briefing in Islamabad on Thursday, he said that the matter of involvement of Indian and Afghan secret agencies in terrorism inside Pakistan would be taken up with New Delhi, Kabul and all the international forums.
Nafees Zakariya said that Ehsanullah's statement cleared that Taliban enjoys the backup of Indian and Afghan intelligence agencies and the international community should take notice of this statement.
He said that confession of Kulbhushan Yadav and Ehsanullah Ehsan has exposed India and Afghanistan before the entire world.
The spokesman maintained that India as a state was involved in terror financing in Pakistan and every arrested terrorist was a proof of Indian interference in Pakistan.
Commenting on the issue of Indian Held Kashmir (IHK), he said that India clamped a ban on social media in IHK to hide grave human rights violations there.
Nafees Zakariya said that India's repressive policies continued in IHK and Hurriyat Leaders Syed Ali Gilani, Aasya Andrabi and Yasin Malik have been arrested.