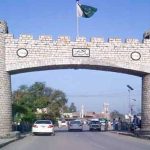 SWAT: At least eight people sustained injuries when a gas cylinder exploded inside a house in Shaheenabad of Swat here on Saturday.
Local people and rescue team rescued the injured and extinguished the fire.
The injured people were shifted to Saidu Sharif Hospital in Swat for medical treatment.
Earlier today in Rawalpindi, two women and a young boy were killed when a fire erupted at their residence in Dhok Chaudhrian area.
The fire brigade was informed about the fire at around 6:15 in the morning. Initial investigation suggests the fire erupted due to a gas leak.
Bodies were shifted to District Headquarter Hospital in Rawalpindi.