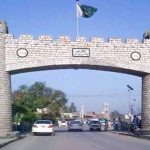 KARACHI: An eight-year old girl was killed and a dozen people sustained injuries when a joy-ride collapsed at an amusement park in Karachi.
Rescue authorities pronounced the girl dead after the joy-ride at the Askari Amusement Park collapsed.
Meanwhile, Commissioner Karachi reached the scene and assured probe into the incident.
Chief secretary Sindh has also summoned report of the incident and directed three-day closure of the joy-rides in all the parks of the metropolis.