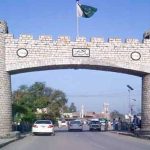 ISLAMABAD: The election campaign of political parties, for the general elections to be held at July 25, will conclude across the country at midnight tonight.
Political leaders and contesting candidates are making last ditch efforts through public gatherings, corner meetings and door to door campaigns to garner maximum public support.
Over 12,570 candidates are in the run for seats of National and four provincial assemblies.
According to the Election Commission of Pakistan (ECP), against the National Assembly's seats, about 3,675 candidates are in the electoral race whereas about 8,895 for the provincial legislatures.