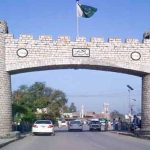 SEHWAN: Pakistan Peoples Party Chairperson Bilawal Bhutto Zardari has said that a weak democracy is still better than a dictatorship.
While talking to media at the shrine of Lal Shahbaz Qalandar in Sehwan on Sunday, Bilawal said that the electoral process should not be made controversial.
The PPP head said that his party is focused on the elections and he will campaign as much as he can. He went on to say that his party enjoys support from the entire country.
"We will foil each and every conspiracy against us. Only our party can resolve the issues of Pakistan," he added.