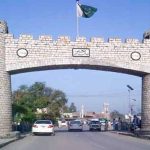 ISLAMABAD:Pakistan Electric and Telecommunication Safety Code (PETSAC), to ensure protection of workforce and general-public, was launched at a ceremony in Islamabad on Monday.
Speaking as chief guest, Minister for Science and Technology Rana Tanveer Hussain said the Code will help implement internationally recognized safety practices in power and telecommunication sectors in the country.
The Minister said this achievement will certainly pave the way to open international job markets for Pakistani engineers. He urged all the relevant regulators to devise effective mechanism within their domains to ensure the implementation of the Code in letter and spirit.
Chairman Pakistan Engineering Council Javed Saleem Qureshi said the Code provides rules for safe practices during the installation, operation, or maintenance of electrical supply and communication lines and equipment. He said the Code developed by Pakistan Engineering Council provides a unified system of safety standards to reduce fatal and non-fatal accidents among workforce and general public. It will also contribute to the safety of valuable assets of the concerned departments.
Mission Director USAID in Pakistan John Groarke said USAID is cooperating with Pakistan in energy, science and technology, and other fields. He said USAID will continue collaboration with Pakistan in meeting its energy requirements.