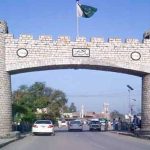 The Evacuee Trust Property Board (ETPB) on Monday sealed Awami Muslim League (AML) Leader Sheikh Rasheed's residence Lal Haveli in Rawalpindi after he failed to provide documents of the property; which was earlier declared to be illegally occupied.
The Auqaf department, along with the Federal Investigation Agency (FIA) and a large police force, arrived at Lal Haveli early in the morning and sealed Lal Haveli.
Last year, the Auqaf department declared that the seven different housing units in the area, including Lal Haveli, were being occupied illegally by Sheikh Rasheed and his brother Sheikh Siddique.
Later, the Supreme Court ordered the former interior minister to submit legal documents for his residential building.
However, Sheikh Rasheed and his brother failed to submit the required documents in the apex court.
Following this, the court ordered authorities concerned to seal the seven units of Lal Haveli, including shops and schools.
The upper portion of Lal Haveli had not been sealed, as Sheikh Rasheed had claimed to have its registry.
Former member of the National Assembly Sheikh Rashid Shafique while talking to media said that they are taking the registry to the Auqaf Department, claiming the move to be illegal.
He added that if the action to seal Lal Haveli had been correct, then it would not have been taken at late night.
The properties of some poor people have also been sealed along with ours, he said.
Rashid Shafiq added that they will fight the case for the poor's and get their properties unsealed.
He said that the departments move had been challenged in the high court.