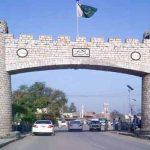 QUETTA: Gulzar Imam, also known as Shambay, the former leader of the Baloch National Army (BNA), was presented before the media on Tuesday by the provincial government. Gulzar Imam said that the problems in Balochistan can be resolved through peaceful means. He urged the Balochs not to waste time on fighting and violence.
During a press conference along with home minister in Quetta, Shambay, who founded the banned militant group BNA, revealed that he had been actively involved in militancy in Balochistan for the past 15 years.
Shambay was apprehended in April during a successful intelligence operation, as confirmed by the Inter-Services Public Relations. The BNA, which was responsible for numerous terrorist attacks in Pakistan, including those on law enforcement agencies in Panjgur and Noshki, was formed by merging the Baloch Republican Army (BRA) and United Baloch Army (UBA).
During the press conference, Shambay stated that he had experienced various circumstances during his time as a militant, but his primary objective had always been to protect his people. Reflecting on his recent arrest and subsequent detention, he had the opportunity to contemplate his past from a new perspective.
Having interacted with Baloch leaders who advocate peaceful movements, Shambay concluded that the issues in his province can only be resolved through legal and political channels. He acknowledged that he and others had entered into the war without fully understanding the state, and despite the loss of loved ones, he now realized that the path he had taken was the wrong one.
Shambay advocated for peaceful resolutions of the problems in Balochistan and expressed remorse for his past involvement in militancy.