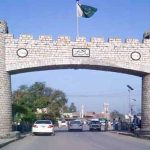 ISLAMABAD: Former prime minister Imran Khan, through a letter , appealed President Arif Alvi to take notice of brazen interference by 'some sections of the establishment in the political sphere'.
According to the letter, the PTI's core and parliamentary committees passed a resolution requesting Arif Alvi, as President and Supreme Commander, to take note of the intervention by intelligence agencies and other establishment elements.
"The most recent reflection of this was the KP governor's statement saying he cannot give a date for elections to the KP legislature as that would be given by intelligence agencies and the establishment."
The letter also mentions 'abductions, sham FIRs and custodial torture' being meted out to PTI workers.
"The resolution calls on you to take notice and take action against all these actions that contravene the constitution," the letter further says.
The letter was handed over to President Alvi by Senator Shibli Faraz on Thursday.
The letter comes after the KP governor said that elections in the province would be subject to the law and order situation in the province. It also comes three days after a suicide bombing rocked a mosque in Peshawar, killing over 101 people, mostly policemen.
PTI leaders have also faced arrests in recent days, with Fawad Chaudhry kept in custody for a week for 'threatening' an ECP official. A sedition case has also been filed against former MNA Shandana Gulzar.
The PTI dissolved provincial assemblies in Punjab and Khyber Pakhtunkhwa in January, with the hope of forcing elections in the country.