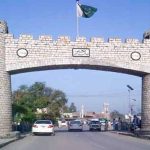 LAHORE: Muttahida Qaumi Movement-Pakistan leader Farooq Sattar has rejected the statement of MQM founder regarding Modi's help.
While talking to media in Lahore, MQM-Pakistan leader Farooq Sattar let it be known that the party means everything for most of the people and that we completely reject the statement of MQM founder.
It is pertinent here to mention that the Muttahida Quami Movement (MQM) founder in his recent controversial statement has sought Indian Prime Minister Narendra Modi's support for the Muhajir community of Pakistan.
MQM-Pakistan leader Farooq Sattar also claimed at the occasion that they have successfully separated eighty percent of the MQM from London.
He revealed at the occasion that we are operating the movement from 180 yards office.
MQM-Pakistan leader questioned as to when will the party get political space.
Farooq Sattar expressed at the occasion that unless and until, we get political rights and offices, the counter politics couldn't be stopped.
MQM-Pakistan leader also offered help in the arrest of criminals who stormed media offices.