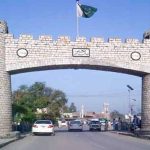 KARACHI: Muttahida Quami Movement (MQM) MNA Kamran Farooqi during in the investigation of May 12 tragedy, revealed that a session was held in MQM headquarters Nine-Zero on May 10, 2007, for planning of violence and massacre.
He revealed that MQM Pakistan s leader Farooq Sattar was involved in planning the May 12 violence in Karachi. The big confession was made just after MQM Pakistan s powershow in Karachi.
The session was attended by Farooq Sattar, Hammad Siddiqui, Aijaz Shah, Abid Chairman and Farhan Shabbir. "Either do a massacre or lockdown Karachi and don t let lawyers reach airport", Kamran Farooqi revealed in statements.
The lawyers were to be stopped from welcoming then Chief Justice of Supreme Court Iftikhar Chaudhry.
He further stated that Tahir Plaza was set on fire as by orders from Nine-Zero to teach the lawyer s leader advocate Naeem Qureshi a lesson.
The MPA confessed that Lyari sector was given Rs 32 lac by Nine-Zero during a period from 2008 to 2009 so that they can buy weapons. It was also instructed to throw the bodies in different areas after enclosing them in sacks.