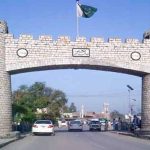 ISLAMABAD: Khyber Pakhtunkhwa Governor Iqbal Zafar Jhagra has said that the government would soon pass Federally
Administered Tribal Areas' reforms bill through the parliament.
Talking to VOA, Governor KP said that the governmen was committed to introduce FATA reforms in the country.
He said that the delay in reforms was due to consultation process for the reforms as the government wants to create
political consensus over the reform package.
The Governor said the reforms would be approved very soon. Bringing FATA to the mainstream was on government's agenda, said the Governor.
He said that it is an established fact that the government constituted a special reforms committee which presented its report to the government shows that government is sincere in its efforts.
He reiterated his government's commitment to introduce reforms in the FATA.