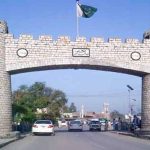 LONDON: Information Minister Chaudhry Fawad Hussain has said that the United Kingdom should work in collaboration with Pakistan to eliminate money-laundering.
He was talking to British parliamentarians during a visit to UK parliament in London today.
The Minister said the PTI government is committed to supremacy of law in the country and wants to rid people of poverty.
He said Pakistan has good relations with the United Kingdom and desires to improve them.
Chaudhry Fawad Hussain said Pakistan wants resolution of Kashmir dispute with India through negotiations. He said opening of Kartarpur corridor by Pakistan is an important and positive step and we expect similar positive response from India.
He said the government will do its best to resolve problems of overseas Pakistanis.
The Information Minister briefed the British parliamentarians on the PTI government's socio-economic reforms agenda.