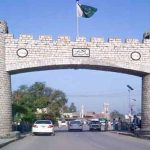 PESHAWAR: Jamiat Ulema-i-Islam-Fazl (JUI-F) chief Fazlur Rehman on Thursday claimed that the government of Pakistan Tehreek-i-Insaf (PTI) is a part of heinous conspiracy and said that Prime Minister Imran Khan and Chief Ministers of all the provinces are fake.
Speaking to media in Peshawar Press Club, Rehman maintained that the present government is enforced and announced to run a campaign to awaken the people. "All the parties rejected the election results unanimously. ECP has failed to hold free and fair elections therefore; it has to resign immediately," he asserted. "Mian Atif has been made the member of Economic Council. We will not allow to spread any Qadiyani agenda," he said.
"We will not tolerate the interference in religious curriculum. If any such thing happened, we will stage a strong protest against it. The new government has just been formed and inflation is on the rise. Price of gas has also been increased. The government is also deprived of diplomatic etiquettes," criticized Fazlur Rehman.
He paid homage to armed forces and said that they are capable of national integrity.