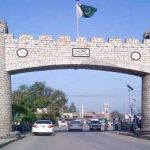 ISLAMABAD: Federal Board of Revenue (FBR) chairman Shabbar Zaidi has placed a ban on raids at business centres and offices.
According to an FBR notification, suspending a name from the list of taxpayers has also been banned without the prior approval of member operation or the FBR chairman.
Raids at institutions accused of tax evasion will also require prior approval from member operation and the FBR chairman.
Last week, FBR chairman Shabbar Zaidi directed staffers of the revenue authority not to harass tax filers.
Speaking to media, Zaidi said no date had yet been finalised for the budget, adding, "We will only do what would be better for Pakistan".
Zaidi since assuming charge of the FBR has vowed to end corruption in the revenue authority's tax collection. He has said that tax percentage in the GDP would be increased and all possible efforts would be made for a taxpayer-friendly FBR. Zaidi said he would utilise the services of present staff of the revenue authority.
Shabbar Zaidi added that the FBR's expertise would be utilised in the widening of the tax net
The federal government appointed Syed M Shabbar Zaidi as Chairman of the Federal Board of Revenue on an honorary basis for a period of two years.
Zaidi's appointment came after the removal of Jahanzeb Khan from the position as head of the tax collection body.
Zaidi is a senior partner at A.F. Ferguson and Co, a leading accountancy and advisory company in Pakistan and a Price Waterhouse Coopers member firm. He has previously served as provincial finance minister in the Sindh caretaker cabinet in 2013.
Zaidi has also served as president of the Institute of Chartered Accountants of Pakistan and as chairman of the South Asian Federation of Accountants (SAFA) in the past, and has also authored several books, including Panama Leaks – A Blessing in Disguise – Offshore Assets of Pakistani Citizens, A Journey for Clarity and Pakistan: Not a Failed State.