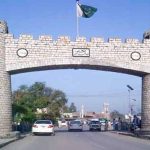 ISLAMABAD: The Coalition government on Wednesday appointed Asim Ahmad, an IRS officer of Grade 21, as the new chairman of the Federal Board of Revenue (FBR) with immediate effect.
Asim Ahmad, who earlier served as the FBR chief in 2021 for a few months and then was replaced when a data-hacking incident occurred in the FBR, replaced Dr Muhammad Ashfaque, elevated to the chairman slot in August 2021. Dr Ashfaque was appointed as FBR chief after replacing Asim Ahmed.
As per the notification issued by the Establishment Division, "With the approval of the federal government, Asim Ahmad is appointed as chairman, Federal Board of Revenue under Section 10 of the Civil Servants Act, 1973, with immediate effect and until further orders."
Aism Ahmad had played a key role in initiating a tax case against the wife of Justice Faez Isa on which former PM Imran Khan had conceded that the reference was a wrong move of his government.
Earlier in the day, Prime Minister Shehbaz Sharif chaired a federal cabinet meeting to discuss important matters including the appointment of the new FBR chairman.
A summary was presented before the cabinet which was approved and afterwards a notification was issued by the Establishment Division.