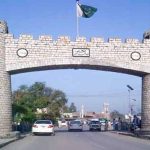 Prime Minister Imran Khan on Sunday warned the opposition parties that they would face the consequences if their no-trust motion against his government failed.
"Are you ready for what I will do with you once your plans for a no-trust motion fail?" he said while addressing a public gathering in Vehari district's Mailsi tehsil.
The premier did not hesitate to lambaste the envoys of the European Union over their letter in which they demanded that Pakistan should condemn Russian invasion of Ukraine and vote against Moscow at the UN.
"Their [EU envoys] double standards are evident on the Kashmir issue." The premier maintained that the opposition leaders wanted to oust him so that they could continue looting the country without ever being held accountable for their corrupt practices.
On the no-confidence motion, PM Imran asked the people who were supporting it, PML-N activists in particular: "Can a jackal become a leader," referring to former premier Nawaz Sharif.
Calling Nawaz a "criminal number 1", the premier asked PML-N activists had they ever heard of a leader who ran away with his "tail between his legs"
The premier said there were good people in PML-N and he wanted to ask them to search on Google if there was any such example where the children of a three-time prime minister were living in a palace worth billions of rupees in London but when were asked about their sources of income, they replied that they were not Pakistani citizens and hence not answerable.
The premier further said the best way to learn about Nawaz's brother Shehbaz Sharif – the PML-N president and the opposition leader in the National Assembly –was to ask a peon, whose account was allegedly used by the Sharif family to launder money.
The prime minister described former president and PPP Co-Chairperson Asif Ali Zardari as a "disease".
He alleged that Zardari became famous as "Mr 10%" in no time because he used to take 10% commission from everyone on everything.
Calling the JUI-F chief Maulana Fazlur Rehman, who also heads the opposition alliance Pakistan Democratic Movement (PDM), as "Fazlu Diesel", the premier said he would not call him Maulana as the title was used for an educated and credible person.
The premier reiterated that inflation had even hit the most powerful economies of the world and Pakistan was no exception. Referring to the record tax collection, the premier said he had slashed petrol and diesel prices by Rs10 each and electricity price by Rs5 per unit. He promised that he would spend more money collected through taxes on reducing the burden from the people.