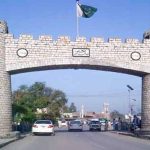 PESHAWAR: The federal cabinet on Monday gave the nod for the removal of Zia-ur-Rehman, the younger brother of Jamiat Ulema-e-Islam (JUI-F) chief Maulana Fazalur Rehman, as commissioner Afghan refugees.
Private news channel quoting sources reported that the cabinet has also given approval for an inquiry against Zia.
Media further reported that Mohammad Shehzad Arbab, adviser to PM for establishment, has been directed to prepare an investigative report on the matter.
The report will determine how Zia was appointed as commissioner Afghan refugees without belonging to any cadre of the civil service.
"There will be an investigation regarding how and why Zia was inducted in the Provincial Management Service (PMS)," the news channel quoted sources.
Zia was appointed commissioner Afghan refugees in 2016.