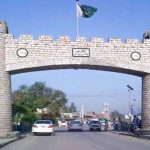 The Federal Cabinet approved on Monday the retirement of Lieutenant General Faiz Hameed and Lieutenant General Azhar Abbas.
The cabinet approved the retirements through circulation.
As per the summary, the retirement of Lt Gen Faiz Hameed will be effective from December 10, 2022, while the retirement of Lt Gen Azhar Abbas will be effective immediately.
Lt Gen Faiz, who is currently serving as Corps Commander Bahawalpur, sent his application to the General Headquarters (GHQ) a few days ago, which was then forwarded to the prime minister for approval.
Lt Gen Faiz was among the contenders for the top position in the military. Following the appointment of Gen Asim Munir as the new army chief and Gen Sahir Shamshad Mirza as chairman joint chiefs of staff committee, he decided to take early retirement.
According to Rules of Business, the appointment of the lieutenant general and above must be approved by the prime minister and he will send a recommendation to the president.