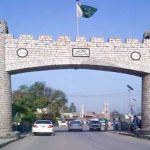 ISLAMABAD: Federal Minister for Information and Broadcasting Fawad Chaudhry on Tuesday stated decision has been made to remove National Bank President Syed Ahmad Khan from his post.
He was addressing a presser here in Islamabad today.
Chaudhry added a committee has been constituted to make south Punjab a separate province whereas foreign minister Shah Mehmood Qureshi and Khusro Bakhtiar will be members of the committee. Chaudhry added that merger of FATA with KPK will also be expedited. He said, "Efforts have been expedited to implement 100-day plan".
The information went on to say that legislation will be amended to make laws of National Accountability Bureau (NAB) more affective.
Ch stated a task force has also been constituted to build 5 million homes and provision of 10 million jobs for the under-privileged people.