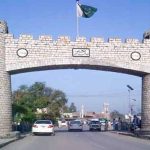 ISLAMABAD: The federal cabinet on Tuesday signed a new summary for the extension in the tenure of Chief of Army Staff (COAS) General Qamar Javed Bajwa for another three years.
The summary was signed after PM Imran Khan presided over an emergency meeting to discuss the issue regarding the extension in the tenure of the Chief of Army Staff (COAS) General Qamar Javed Bajwa after the Supreme Court suspended the notification of his extension.
Sources said that the new summary was sent to President Alvi for approval.
During the meeting, the prime minister was briefed about the suspension of the notification of Gen Qamar Bajwa's extension by the apex court. The meeting will be held at the PM office shortly.
The members of the federal cabinet in a meeting presided over by the prime minister reiterated that the country's Chief Executive has the authority to extend the tenure of the Chief of Army Staff (COAS).
Sources said that during the meeting, the federal cabinet decided to unanimously stand with the Pakistan Army.
The decision to issue a new summary will be taken after the briefing. The federal cabinet will be apprised by the Minister of Law and other legal experts.
The development comes a few hours after the Supreme Court suspended the notification for General Bajwa's extension of three years as army chief. The top court has sent notification to the concerned parties involved in the matter and adjourned the hearing till tomorrow.
Justice Asif Saeed Khosa remarked that the Constitution doesn't allow re-appointment or extension in the service of the army chief. The prime minister issued a self-deployment notification on August 19, stating that the Army Chief's term was extended.
In a verbal order following the hearing, the court said that the prime minister had issued a notification of Gen Bajwa's "appointment in his own capacity on August 19". "The mistake was realised after the notification [was issued] and the prime minister sent the summary to the president. The president approved it on August 19.
"The court was told that the extension is being granted in light of the regional security situation. Dealing with regional security situation is the job of the army as an institution, not just that of an officer's.
"If the regional security situation reasoning is accepted, then every army officer would want a re-appointment." "The attorney general could not present any legal reason for an extension in tenure or a new appointment," the court observed.