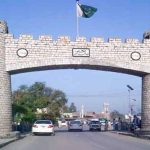 ---
The government notified on Thursday a 25% ad hoc increase in the salaries of the federal employees following successful negotiations between the protesting secretariat staffers and a three-member ministerial committee.
The finance ministry said in the notification that the federal employees in grade 1 to 19 would get the increased salaries from March 1. It added that the ad hoc relief could be made part of the basic salary in the next fiscal year.
An agreement with protesters was reached after Wednesday's fierce clashes between the employees and security forces in the federal capital. The employees had been protesting the increase in their wages.
Following the clashes, a special committee formed by the prime minister, comprising Defence Minister Pervez Khattak, Interior Minister Sheikh Rashid and State Minister for Parliamentary Affairs Ali Muhammad Khan, held talks with the protesters.
In accordance with the agreement, the finance division agreed to a disparity reduction allowance of 25% of the basic pay to "those civil employees in BPS (1-19) … who have never been allowed additional salary equal to or more than 100% of the basic pay" from March 1, 2021.
"The posts BPS (1-16) or equivalent will be upgraded on the pattern of Government of Khyber Pakhtunkhwa w.e.f. 01 March, 2021," the notification said. "The grant of time-scale will also be considered for adoption on the same pattern in the next budget," it added.
The finance division said that ad hoc relief would "also be considered to be made part of the basic salary w.e.f. July, 2021", adding that the provinces would be "recommended for adoption of above from their own resources".
At a press conference on Thursday, the government's negotiating team confirmed that the federal employees from grade 1 to 19 would be given an ad hoc relief of 25% pay raise, while the issues of their upgradation would be resolved after the budget.
"The ad hoc relief would be merged in the budget," Defence Minister Khattak told reporters. "The ad hoc relief will continue till the decisions of the Pay and Pension Commission," he added. "Upgradation of employees has already been done in Punjab and Khyber-Pakhtunkhwa."
Khattak told reporters that the prime minister had spoken to the two chief ministers and had asked them to resolve the issue of salaries of the provincial employees as per directions and recommendations of the federal government.
He said that a policy would be made for the time-scale promotions. "The issue of time-scale promotions will also be resolved in the budget and the promotions will be given by looking into the employees' performance," he said. "Directions will be issued to settle issues of lady health workers."