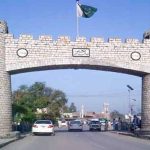 ISLAMABAD: The federal government will complete its five-year term midnight tonight with Punjab and Punjab Assemblies stand dissolved.
According to details, the assemblies of Sindh and Khyber Pakhtunkhwa completed their terms on Monday and stood dissolved.
Meanwhile, Justice (retired) Nasirul Mulk has been nominated as caretaker Prime Minister during a meeting.
The meeting was held between Prime Minister Shahid Khaqan Abbasi and Leader of the Opposition in National Assembly Syed Khurshid Shah.
He will take oath of his office on Friday.