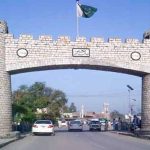 ISLAMABAD: Federal Minister for Law and Justice, Nazeer Tarar, Thursday hailed the Election Commission's decision of postponing elections in Punjab, saying that holding national and provincial assemblies elections simultaneously in the best national interests.
Addressing a press conference here that the country was facing security challenges and severe economic crisis. He said that the two provincial assemblies were dissolved only to please one person. The country is facing economic difficulties and needs to move towards austerity. Incidents of terrorism are increasing, he said, adding that if separate elections were held in two provinces, it would lead to a constant crisis. The economic stability of the country is linked to political stability, he said.
The Federal Minister for Law and Justice said that the constitution of Pakistan requires that general elections be held together. According to the constitution, it is necessary to hold elections together within 90 days. The job of the Election Commission is to hold transparent and fair elections, he said. In Khyber Pakhtunkhwa in 1992, the caretaker setup remained in place for more than 5 months. Since 1947, all elections in the country have been held on the same day.
He said that the security issues cannot be ignored. "The Election Commission's decision is the best in my opinion. If Imran Khan wants to have a grand political dialogue, we are ready," he said.