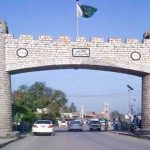 ISLAMABAD: Federal Minister for Communications Murad Saeed has said that those who damaged public property, including national highways and motorways would be brought to justice those.
Talking to newsmen on Saturday he said, "the Constitution permits peaceful protests. [But] under no circumstances can it be allowed to damage public and private property under the garb of protests."
"During two days of protests, the property of National Highways was damaged all over the country. Billions will now have to be spent on repair works. We will identify these miscreants and bring them to justice"
Meanwhile, a petition seeking damages for the destruction of public property during protests led by the Tehreek-e-Labbaik Pakistan (TLP) was also filed in the Lahore High Court (LHC) on Saturday.
The petition submitted by citizen Abdullah Malik states that the TLP protests have caused considerable damage to government and public property.
It added that the protection of the lives and wealth of the citizen was the first responsibility of the government and added that not doing so had violated citizens' fundamental rights.