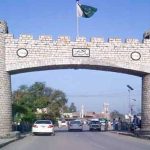 KARACHI: The Federal Investigation Agency (FIA) on Friday arrested former president Asif Ali Zardari's close aide Hussain Lawai over money laundering scandal in Sindh.
As per details garnered, Hussain Lawai is charged with Rs 25billion money laundering.
It is pertinent here to mention that Hussain Lawai is also chairman of Pakistan Stock Exchange (PSX) who took charge of the post on May 15, 2018.