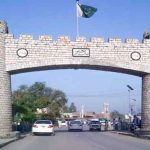 PESHAWAR: Inspector General of the Khyber Pakhtunkhwa police Akhtar Hayat Gandapur has termed fighting terrorism a biggest challenge for the province police.
Talking to media at Peshawar Press Club on Tuesday, IGP said that the provincial capital has been divided into two divisions in order to combat street crime and extortion cases and restore peace in the city.
He asserted that the much-awaited Safe City project is currently progressing more quickly. As part of the Secure City Project, a few cameras have been installed on a few city streets. Installation of private cameras is urgently required, and they are working on it.
He stated that the service structure for the Khasadar and Levies force, who were incorporated into the police, has been devised and submitted to the provincial government for approval. He appraised the performance of the Levies and Khasadar force.
Akhtar Hayat acknowledged that in the past, no significant action had been done in response to extortion cases in the province.
He claimed that a special unit in CTD has been established to combat extortion. The CTD has been reshaped and extended to various regions. He asserted that street crime will be reduced with modern technology.
The IG Akhtar Hayat said that persons involved in the Peshawar Police Lines blast have been identified.
The biggest challenge for the police is dealing with terrorism, he said adding most of the terrorism is in the southern districts of Peshawar.