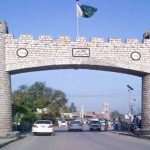 ISLAMABAD: Upcoming Pakistani film Abdullah will be released in cinemas on October 14, while the film surrounds the terrorism incident occurred in Kharotabad.
The filmmaker and writer of Abdullah, Hashim said that film story revolves around incident occurred near Kharotabad area of Quetta on May 17, 2011. He said that three women including two foreigners had been targeted by terrorism in that incident.
The cast of the film included Sajid Hassan, Imran Abbas, Sadia Khan, Hameed Sheikh, Saleem Mughal, Asal Din Khan and Imran Tareen. Besides, film was also screened in 68th Cannes Award.