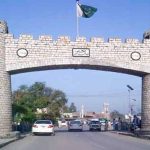 KARACHI: A massive fire has engulfed three factories in the Export Processing Zone in Landhi area Karachi on Sunday evening.
According to details, fire broke out at a cardboard factory in Export Processing Zone at around 6:00pm which spread quickly and engulfed nearby plastic and textile factories.
According to Export Processing Zone officials, the fire which is categorized as Level 3 fire was caused by short-circuit. No casualty was reported so far in the incident.
At least 10 nine fire tendersand one snorkel were taking part in extinguishing the blaze. Despite the efforts, fire was not put out and it intensified as plastic and other kinds of inflammable materials were there in the factories. Firefighters are yet to take control of the situation.
Meanwhile, emergency has been imposed on hydrants across the city to supply water to the fire brigade. Officials say the damage from the fire will be estimated after consultation with factory owners.