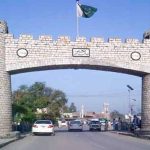 At least five people were killed and 11 others wounded in a blast at Quetta's Serena Hotel Wednesday night, the Balochistan health authorities confirmed.
"The blast took place in the parking of Serena Hotel," Liaquat Shahwani, the Balochistan government spokesperson, told Khyber News. Footage from the site showed cars ablaze and flames and plumes of smoke rising into the sky.
Interior Minister Sheikh Rasheed confirmed the casualties in the blast. "We have taken this seriously," he said. "It came at a time when the Chinese ambassador was staying at the hotel but it has been foiled."
The outlawed Tehreek-i-Taliban Pakistan has claimed responsibility for the blast. Rescue teams reached the spot and moved the injured persons to hospitals. Among them, the doctors have declared two to be in critical condition. A heavy contingent of security forces reached the site and secured a perimeter around it. Three people killed in the attack have been identified as police officer Shujaat Abbasi, hotel security in charge Shahzaib Yousafzai, and private security guard Asadullah.
According to an initial report by the Bomb Disposal Squad, ball bearings and a highly sensitive flammable chemical, C4, were used in the blast. "Around 80 kilogramme to 90 kilogramme explosives were used and were brought inside the hotel in a car," the squad's spokesperson said.
The hotel premises has been cordoned off and personnel of the Counter-Terrorism Department have been deployed to investigate the explosion.