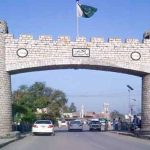 LAHORE: The security forces arrested five suspected facilitators on Friday involved in a suicide blast outside the Data Darbar shrine in Lahore.
The five suspects were arrested from Garhi Shahu by the security forces after a raid on tea stall.
The suspects are believed to have been in contact with the individuals behind the suicide blast which targetted a police van stationed outside the entrance of Data Darbar and claimed the lives of 12 people including five police officials, a security guard and civilians.
Asad Abbasi and Shahid bought the tea stall three months ago where the alleged suicide bomber who carried out the attack is said to have resided.
On Thursday, an image of the alleged suicide attacker was released by the police. The image showed the attacker next to the right side of the Elite Force police van and 8:54am. He is facing the main gate of Data Dabar and is wearing a shalwar kameez while carrying a bag.
According to Shahbaz Gill, spokesperson for chief minister of Punjab, the suicide bomber was 15-years-old. He had exited a shop selling fruits before making his way to the Elite Force van.