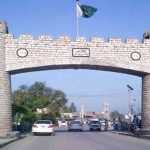 ISLAMABAD: Pakistan Foreign Minister Shah Mehmood Qureshi on Sunday left for London to attend meetings and functions over the Kashmir Solidarity Day.
Reportedly, the foreign minister is expected to participate in the United Kingdom House of Commons' debate, which is scheduled to be held on February 4, on the inquiry report by the British Parliamentarians' All-Party Parliamentary Kashmir Group (APPKG) on gross human rights' violations in Indian-occupied Kashmir.
He will also attend an exhibition on Kashmir in Park Lane on Tuesday.
Earlier, he asserted that Kashmir has been the cornerstone of Pakistan's foreign policy and the state's stance towards it has been 'clear'.
He further maintained that on Kashmir Solidarity Day, Pakistan will raise a strong voice to highlight Indian persecution and brutalities being perpetrated in occupied Kashmir.
"Pakistan will continue to extend its political, moral and diplomatic support to Kashmiris for their right to self-determination in accordance with United Nations (UN) Security Council resolutions.