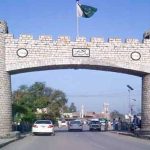 NEW YORK: Prime Minister Shahid Khaqan Abbasi Thursday said his visit had achieved its objective of conveying Pakistan's strong stance against terrorism as "the international community was now showing its understanding and appreciation of the country's commitment and its sacrifices."
Winding up his four-day visit to New York, Abbasi told a press conference for the Pakistani media here that during his interaction with the US leaders, he made some headway in putting the relations back on track.
Shahid Khaqan Abbasi, who led the Pakistan delegation to the 72nd session of the UN General Assembly, went through a hectic schedule in New York and met President Donald Trump, Vice President Mike Pence and several other world leaders on the margins.
The prime minister had 27 engagements, including several important bilateral meetings with different heads of governments. He said his other engagements included meetings with the heads of World Bank, World Economic Forum, UN Secretary-General, besides interaction at the Council of Foreign Relations.
In his speech at the UNGA, he said he had presented the Pakistan's point of view effectively and forcefully presented. He has been getting a positive feedback, he added.
He said the National Security Committee had already given a strong response on the new US strategy on South Asia and Afghanistan.
The prime minister, who was flanked by minister for Foreign Affairs, Khawaja Muhammad Asif and Pakistan's Mission to the UN Maleeha Lodhi, said he looks forward to the visit of a US delegation to Pakistan. The announcement of the delegation was made after Abbasi-Pence meeting.
He said that Pakistan has rendered a lot of sacrifices in its war against terrorism and played a key role in countering the threat of terrorism in the country.
Pakistan's stance was clear that it wants to fight terrorism in all its forms and manifestations, he said adding, "We are partners in the war against terrorism and the international community has accepted it."
To a question, Khawaja Muhammad Asif said he has had a meeting with the National security Advisor of Afghanistan and several issues of mutual concern were taken up. Both the sides agreed to carry forward the talks, and that he has been invited to visit Kabul.
Prime Minister Abbasi said his bilateral meeting with President Abdul Ghani could not materialise due to scheduling difficulties.
Responding to a question, the prime minister said peace could not be brought to Afghanistan by war. Afghanis need to sit down together and resolve their own issues.
Those with whom we are fighting have their leadership in Afghanistan. Nobody wants peace more than us in Afghanistan, he remarked.
The prime minister said the Taliban were operating in Afghanistan, and Pakistan had nothing to do with them.
Responding to a question, the foreign minister said he had a informal chat with the Indian Minister for External Affairs Sushma Swaraj at a diplomatic reception. He said he enquired about her health and she said she was feeling better after her kidney transplant surgery.
Referring to his demand for appointment of a Special Envoy on Kashmir at the UN General Assembly, the prime minister said the world body would look into it. He said the dossier presented has information about the atrocities being perpetrated against the Kashmiris and expressed the hope that Pakistan would get a positive response.
Turning to the domestic politics the prime minister said his government has lots of respect for the Supreme Court and had only one stance that the Courts should equally treat everyone. To a question he denied any reshuffle in the federal cabinet.
Khawaja Asif to a question said the US has very strict banking laws and the banks all over are hesitant in opening new accounts, till they have full reference.