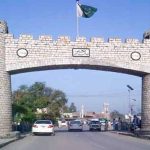 ISLAMABAD—  The Foreign Office has denied any visit of a Pakistani delegation to Israel.
"Pakistan's position on the Palestinian issue is clear and unambiguous. There is no change whatsoever in our policy on which there is a complete national consensus." read the statement, issued by the Foreign Office.
He said Pakistan steadfastly supported the Palestinian people's inalienable right to self-determination.
"The establishment of an independent, viable, and contiguous Palestinian State with pre-1967 borders and Al-Quds Al-Sharif as its capital, in accordance with the relevant UN and OIC resolutions, is imperative for just and lasting peace in the region," he added.
It is pertinent to mention here that, yesterday, the Israeli president confirmed that two weeks ago a delegation from South Asia met with him in Israel and that the delegation included two Pakistani American citizens.