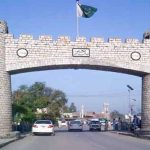 KARACHI: Ex Chief Secretary Sindh Fazlur-Rehman has been named as the caretaker Chief Minister (CM) of Sindh.
The decision to this effect was made during a meeting of the outgoing Sindh CM Syed Murad Ali Shah and leader of opposition in Sindh Assembly Khwaja Izhar-ul-Hassan.
Both the parties have unanimously agreed to propose the name which was announced at a joint press conference held at chief minster house in Karachi.
The caretaker Chief Minister will take oath of his office at governor house in Karachi.
The governor Sindh Muhammad Zubair will administer the oath.
It may be recalled that the nominated caretaker chief minister Fazlur-Rehman had served as a chief secretary Sindh from 2007 to 2010.