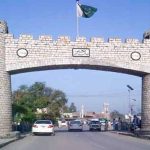 KARACHI: Former Chief Justice of Pakistan Muhammad Ajmal Mian passed away on Monday in Karachi at the age of 83 years.
His funeral prayer will be offered after Asr prayer in Mustafa Mosque of Defence Phase-I and will be buried in Mewa Shah Graveyard.
Judicial matters have been suspended in Sindh High Court and lower courts as part of mourning.
Justice Ajmal Mian was born on July 4, 1934 in Delhi. He graduated in Economics and Political Science from Karachi University in 1953 and became barrister from Lincoln's Inn London on February 5, 1957.
He served as the Chief Justice of Pakistan from December 23, 1997 to June 30, 1999.