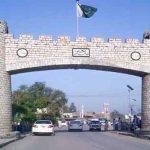 GHALLANAI: A former member of a pro-government peace militia (Aman Committee) was killed in an improvised explosive device (IED) blast in Mohmand tribal district on Tuesday.
Police said Umar Said, who was formerly a member of the peace committee, was coming out of his home in Saro Shah area of Ambar tehsil in the morning at about 6:30am when an IED planted outside his house exploded on him due to which he died on the spot.
Police reached the spot and cordonned off the area after the incident. A search operation was also carried out in the area, but there were no reports about any arrest.
The government and security forces had raised peace committees to tackle the challenge of militancy in the tribal districts with the help of local population. The militants were driven out of tribal districts in successful military operations, but attacks started on the peace committee members. Several members of different peace committees have been killed in such targeted attacks.