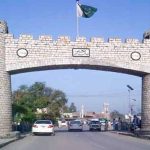 ISLAMABAD: Influential politician hailing from Pakistan Muslim League-Nawaz (PML-N) Sardar Ghulam Abbas has joined Pakistan Tehreek-e-Insaf (PTI).
According to a press release of PTI issued on Sunday, Abbas met PTI chairman Imran Khan and announced his inclusion in the party.
Senior leader Jahangir Tareen was also present at the meeting.
Abbas quit PML-N following Nawaz Sharif's controversial interview regarding Mumbai attack trial which sparked a political storm in the country.
He had secured more than 0.1 million votes as an independent contestant from Chakwal in the last general elections.