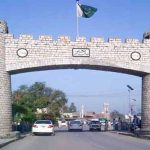 BANNU: Four bullet-riddled bodies were found buried in a local graveyard in Jani Khel area of Khyber-Pakhtunkhwa's Bannu district on Sunday, reported by Khyber News.
Police told the media that in a local graveyard people discovered four fresh graves. No local had died recently and they got suspicious after which it was decided to dig the graves.
"They started digging the graves and inside found four bullet-riddled bodies of local youngsters who had gone missing 20 days ago. One head had been removed from the body while three bodies were bullet riddled," they said.