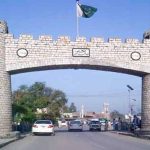 RAJANPUR: At least four people were killed after a passenger bus travelling from Karachi to Swat overturned in Rajanpur on Monday morning.
Twenty-four people have been injured in accident.
According to local news channel, the bus was on its way to Swat from Karachi and it turned turtle in Rajanpur due to over-speeding in a result four persons died on the spot and injuring 24 others.
The accident occurred because the driver was speeding, the police said. The bus was travelling from Karachi to Swat.
Police and rescue teams reached the spot after being informed and shifted the injured to District Headquarters Hospital Rajanpur.