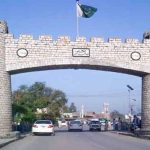 PESHAWAR: Four people lost their lives while 17 others sustained injuries in rain related incidents in Khyber Pakhtunkhwa, said a report issued by the Provincial Disaster Management Authority (PDMA) here on Saturday.
It said that in Mardan, two persons were died and two injured when the roof of their house collapsed due to heavy rains while one casualty had also been reported from Peshawar in a similar incident.
The death of a woman in a roof collapse incident is also reported from South Waziristan.
Heavy rains have also damaged six houses including one fully destroyed and five partially damaged. Three cattle were also perished due to heavy rains.
The PDMA has directed administrations of all affected districts to accelerate relief operations in their respective districts.