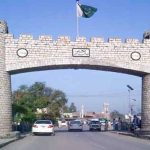 NAUSHAHRO FEROZE: At least four security personnel were killed and eight others injured in a road accident on National Highway in Naushahro Feroze district on Saturday, police said.
Naushahro Feroz SSP Imran Qureshi said the injured were being airlifted from Naushahro Feroze hospital to Karachi for providing advanced medical treatment.
Qureshi said a military convoy was passing through the riverine area of Sindh when the soldiers sitting in the back of a truck fell from it while administering a sharp turn.
The soldiers received serious injuries to the skull and four of them died on the spot, he added.
The accident took place within the jurisdiction of Sadhuja police station, Qureshi said.
The deceased have been identified as Irfan, Faiz, Mohabat, and Imran. Moreover, Awais, Nadeem, Majeed, Fayaz Bux, Shabbir, Irfan, Sanullah and Yasin received multiple injuries.
Out of the eight injured, one soldier is said to be in critical condition, he added.