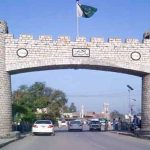 ISLAMABAD: Interim Minister for Information Ali Zafar on Saturday said that free, fair and transparent elections were held on Wednesday (July 25).
Felicitating the nation on successful elections, he said that 25th election was the most important in the history of country, adding that the phase of elections has passed smoothly and now the process of government formation has started.
The minister said that the voters have given their response to the claims of pre-poll rigging as the high turnout of voters was one of the most encouraging trends in this election, even in far flung areas of the country.
Ali Zafar said that the overall elections were held in a peaceful environment.
He said: "Terrorists could not weaken the nation's democratic resolve, despite sporadic attacks to disrupt the election process.
The minister also congratulated security forces for maintaining peace and law and order in the country during the polling process.
Earlier, the Election Commission of Pakistan (ECP) had announced final results of all the constituencies of the national and provincial assemblies, more than 56 hours after the conclusion of voting for the 2018 General Elections in the country.
According to an update issued by the ECP, Imran Khan's Pakistan Tehreek-i-Insaf (PTI) party has won 116 of the 270 National Assembly seats, emerging as the largest political party in the country. The PML-N grabbed 64 seats, while the PPP is in third place with 43 National Assembly seats.
Similarly, Mutahida Majlis Amal (MMA) secured 12 seats and Pakistan Muslim League (Q), Balochistan Natioanl Party, Mutahida Qaumi Movement Pakistan, and Balochistan Awami Party has secured 4, 03, 06, and 04 seat respectively.
Awami National Party (ANP) has won one seat, Awami Muslim League (AML), Pakistan Tehreek-i-Insaniyat and Jamhoori Wattan Party (JWP) have also grabbed one NA seat each.
As many as 14 independent candidates have also remained successful in their constituencies. They are likely to play an important role in formation of the federal government.
According to the ECP, the voter turnout in the National Assembly elections remained 51.85 percent.
The highest voter turnout of 55.09 percent was recorded in the Punjab assembly elections followed by Sindh 48.11, Khyber Pakhtunkhwa 45.52 and Balochistan assembly 51.85 percent.